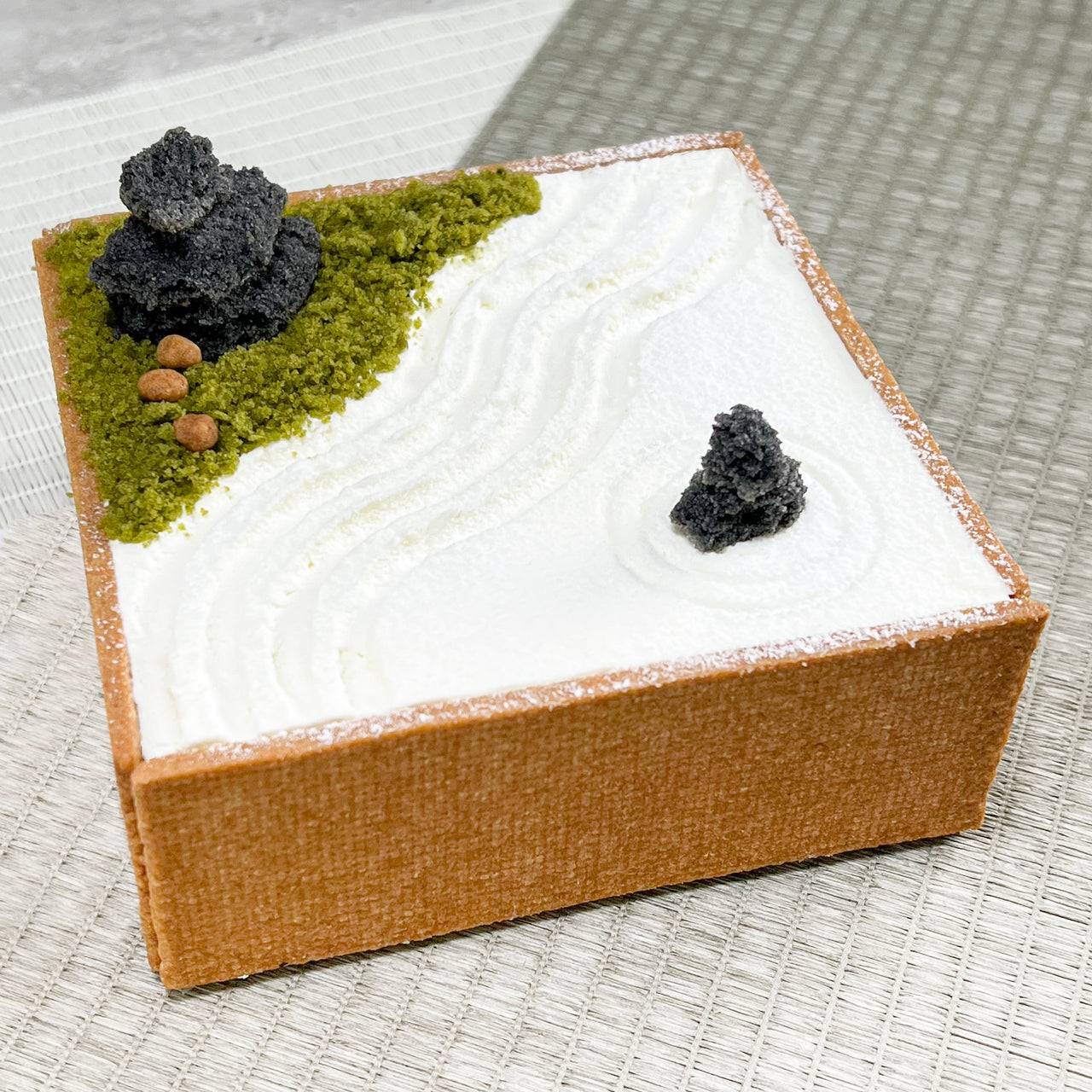 甜點系列 -《日。庭園》 抹茶黑芝麻柚子蛋糕
Zen Garden
上課時間:約 3.5小時
Duration:3.5 hours
--------
是一個蛋糕 也是一個風景
是一個吃得到的風景
將日本庭園 「枯山水」的園林景觀
在蛋糕上演繹出來
黑芝麻蛋糕配上抹茶蛋糕
日本宫崎日向夏柚子忌廉和果凍
蛋糕面上勾畫出如水波流動的砂紋
叠砌的小石堆造型
黃豆味道的曲奇盒子
在一個蛋糕中嚐到酸、甜、甘、香、脆的和諧味道融合
帶領你享受一個滿載視覺與味覺的旅程
這個課程將教會你如何製作鬆軟的抹茶蛋糕及黑芝麻蛋糕,用上日本日向夏柚子製作的清新忌廉和果凍,濃香鬆脆的黃豆味曲奇和獨特的蛋糕裝飾技巧,一步步帶領你創造出專屬自己的一幅美麗景色。
-
This class will guide you through the whole process in making this edibule Japanese traditional scene ~ ZEN GARDEN.
Not only a beautiful appearance also come with a comfortable taste & perfect balance flavour. Let's enjoy the harmony between taste and visual detail.
We will show you how to make this cake with variety of Japanese ingredients, Matcha & Black Sesame sponge cakes, Citrus Tamurana mascarpone cream and jelly filling, roasted soy bean cookies and  the special technique in decorating the Japanese Zen Garden design on top of the cake. 
--------
注意事項/Remarks:
-
*所有課堂一經報名不能取消或改期,敬請留意。課堂過程中不准錄影錄音。
*All bookings are are non-refundable and rescheduling. No video and audio recording during class. 
-
*部分程序將會由學員一同製作或由導師示範。
*Particular procedures will be proceeded by participants as team or demonstrated by Instructor
-
*因應天氣,同學可自備冰包。
*Students are welcome to bring their own ice pack.
-
*由於水果/材料當造季節不同,導師或會轉換其他水果/材料作為餡料,敬請留意。
*Please note that due to different season, instructor may use other ingredients or fruit for filling without further notice.
--------
每班人數:8-10人
8-10 participants
-
每位可帶走1個約5吋蛋糕及迷你果凍杯子
1pc 5" Whole Cake and mini dessert cup / participant
--------
包裝盒/Packaging:
為支持環保,希望同學能自備保鮮盒。
建議包裝盒尺寸:8"(長) x 8"(闊) x 6"(高)
Help save the environment, we encourage participants bring along reusable packing box for the finished products.
Suggested packaging box size: 8"(L) x 8"(W) x 6"(H).
--------