煙燻風乾火腿 &香草芝士蒜味雙色曲奇|鹽酥楓糖雜果仁米餅波波 | Smoked Jamón Serrano & Cheesy Garlic Savoury Cookies|Salted Maple Mixed Nuts Rice Crunch
Eva Chan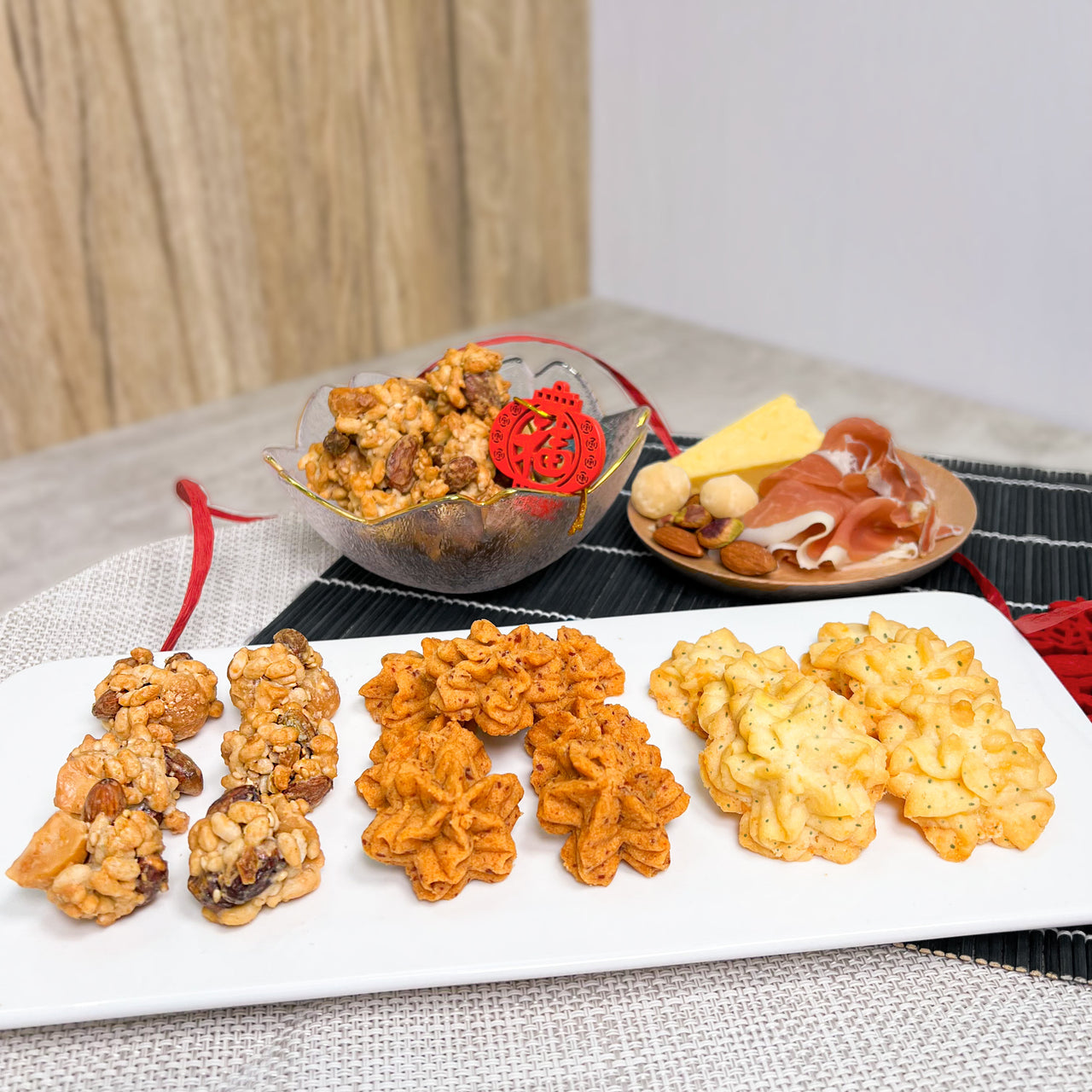 《全新創作烘焙課程》
煙燻風乾火腿 &香草芝士蒜味雙色曲奇|鹽酥楓糖雜果仁米餅波波
Smoked Jamón Serrano & Cheesy Garlic Savoury Cookies|Salted Maple Mixed Nuts Rice Crunch
上課時間:約 3 小時
Duration:3 hours (approximately)
--------
這次全新烘焙課,用上多種高級料理食材,以獨特新穎手法融合烘焙之中,創作出『煙燻風乾火腿』和『香草芝士蒜味』兩款惹味又鬆脆的唧花曲奇,啟動你的味覺享受新層次!
課堂還會教授另一款全新創作—
『鹽酥楓糖雜果仁米餅波波』
用上楓糖、香料及多種果仁,製作出一款低GI值健康香脆零食,讓你吃得開心又自在!
課程將和大家分享如何製作原創設計曲奇麵團配方,還會帶領大家深入認識曲奇的材料運用、麵團攪拌技巧、唧花技巧、温度控制等注意事項。
課程會教授同學們學會製作三款不同曲奇點心的重點要訣!

一個課堂學到三款不同曲奇食譜作法,讓大家在家中也能做出高級大師水準的出品!
-
Creativity is thinking up new things.
Innovation is doing new things!

Combining Premium Cuisine ingredients into French Pastry !


This brand new Baking Workshop  incorporates assorted cuisine ingredients into different cookie doughs, to create crispy & buttery SAVORY cookies!

We will teach you how to choose ingredients, guide you through the whole process and instruct the special techniques in making professional french spritz cookies!


We will also demonstrate another healthy and LOW GI healthy snack recipe - Salted Maple Mixed Nuts Rice Crunch, you will be surprised with the new technique and taste!
注意事項/Remarks:
*所有
報名經確認後恕不能更改或取消, 謝謝見諒。
*All registrations are not allowed to reschedule / cancelled after confirmation.
*部分程序將會由學員一同製作或由導師示範。
*Particular procedures will be proceeded by participants as team or demonstrated by Instructor
-
*因應物流情況,導師或在需要時轉換其他食材,敬請留意。
*Please note that due to delivery arrangement, instructor may use other ingredients without further notice.
--------
每班人數:8-10人
8-10 participants
-
每位可帶走約50件曲奇
Approximately 50pcs of cookie / participant
--------
包裝盒/Packaging:
為支持環保,同學可自備不少於 7"闊 x 10"長 x 4"深的保鮮盒。
Help save the environment, we encourage participants bring along reusable packing box for the finished products.
Recommend box size : 7" width x 10" length x 4" depth
--------
上課注意事項 / Remarks:
所有課堂一經報名不能取消或改期,敬請留意。
課堂過程中不准錄影錄音。