榛子朱古力香橙聖誕屋 | Hazelnut Dark Chocolate & Orange Santa House Cake
Eva Chan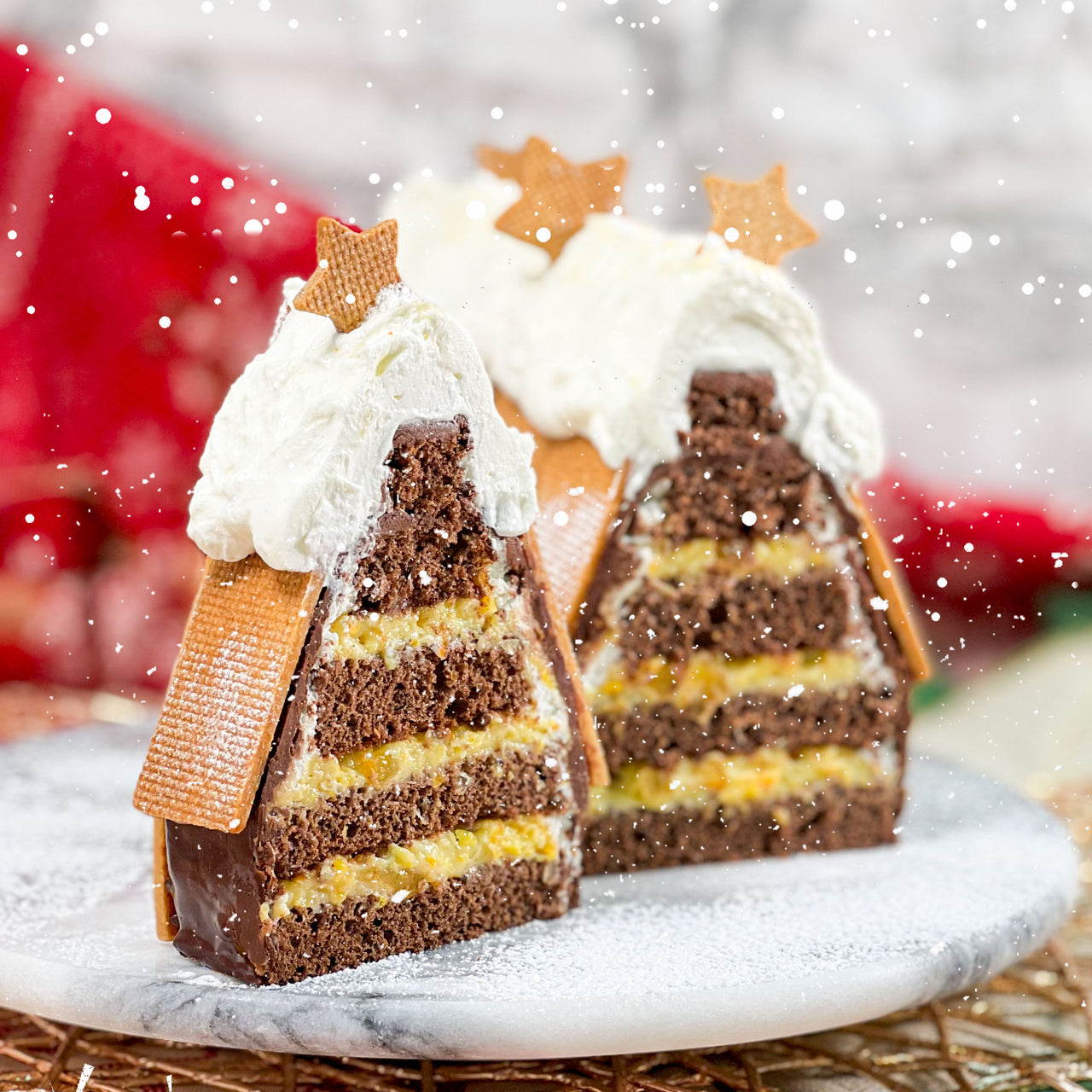 𝐍𝐞𝐰

𝐒𝐞𝐚𝐬𝐨𝐧𝐚𝐥

𝐏â𝐭𝐢𝐬𝐬𝐞𝐫𝐢𝐞

𝐖𝐨𝐫𝐤𝐬𝐡𝐨𝐩
《節日限定》榛子黑朱古力橙香聖誕屋
Hazelnut Dark Chocolate & Orange Santa House Cake
上課時間:約 3.5 小時
Duration:3.5 hours
--------
全新聖誕🎄法式甜品課程🎄
每每在街上看到充滿濃厚節日氣氛的薑餅屋,心情也會自然快樂起來!
今年將會教大家親手做出漂亮又美味的聖誕屋,和親友一起慶祝這個普世歡騰的節日。
課堂上將教授大家如何製作鬆軟濕潤榛子黑朱古力蛋糕,配上與朱古力完美配搭的清新橙香餡醬,外層鋪上鬆脆的薑餅曲奇屋頂和外牆,一步步教你親手建造屬於自己獨一無二的充滿聖誕氣氛的立體薑餅屋造型蛋糕!
-
This year we bring to you all a beautiful & irresistible  Brand New Seasonal Pâtisserie Creation ~ Hazelnut Dark Chocolate & Orange Santa House Cake ~

This class will show you how to bake a  soft and moist hazelnut chocolate sponge cake , how to make a smooth orange cream filling, and our signature gingerbread cookies!

We will guide you through the whole process in how to shape and create your very own UNIQUE Santa cake, to celebrate this Christmas with your family and friends!
--------
注意事項/Remarks:
-
*All registrations are not allowed to reschedule / cancelled after confirmation.
*部分程序將會由學員一同製作或由導師示範。
*Particular procedures will be proceeded by participants as team or demonstrated by Instructor
-
*由於食材當造季節不同,導師或會轉換其他食材作為餡料,敬請留意。
*Please note that due to different season, instructor may use other fruit for filling without further notice.
--------
每班人數:8-10人
8-10 participants
-
每位可帶走1個聖誕屋蛋糕及適量薑餅餅乾
1pc of whole Santa House Cake and some  gingerbread cookies / participant
--------
包裝盒/Packaging:
為支持環保,同學可自備不少於 8" 闊 x 8"長 x 6"深的保鮮盒。
Help save the environment, participants please bring along reusable packing box for the finished products.
Recommend box size : 8" width x 8" length x 6" height
--------
上課注意事項 / Remarks:
所有課堂一經報名不能取消或改期,敬請留意。
課堂過程中不准錄影錄音。
--------