紫薯玫瑰唧花曲奇 & 法式棋盤曲奇 | Sablés Purple Potato Viennois Cookies & Sablés Hollandais Checkerboard Cookies
Eva Chan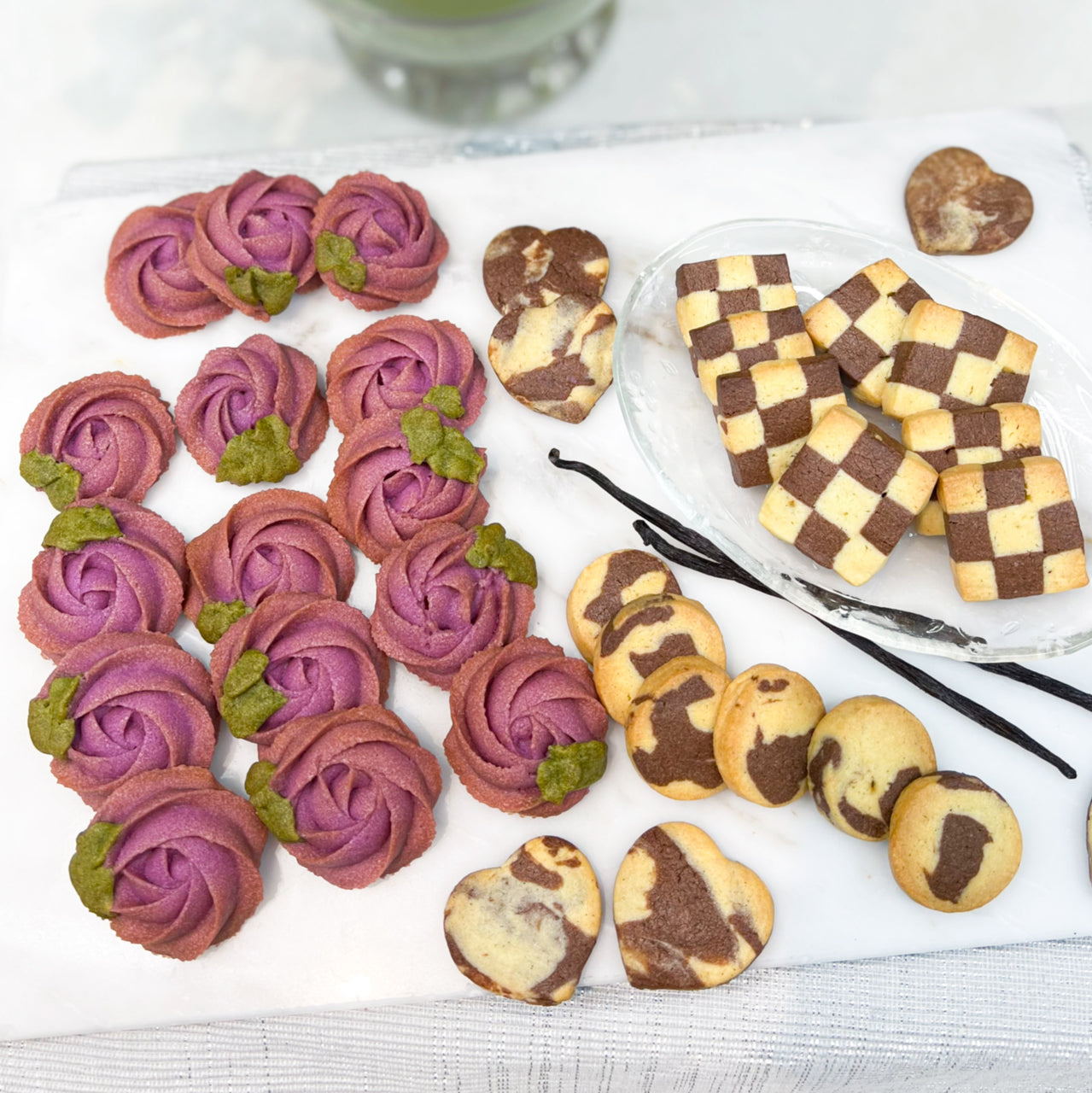 上課時間:約 3小時
Duration:3 hours
--------
經典曲奇系列之
紫薯玫瑰唧花曲奇 & 法式棋盤曲奇
課堂會跟大家一步步分享如何製作兩款經典法式曲奇。
糅合法式曲奇及日式食材,用上紫薯味及抹茶味製作的維也納曲奇,教你做出一朵朵美麗優雅的玫瑰唧花曲奇。
法式經典棋盤曲奇是法國傳統的曲奇之一,外表細緻精巧,口感香酥可口令人吃不停口。
課堂上會使用馬達加斯加原條雲呢拿製作成雲呢拿及特濃朱古力口味,教你親手製作棋盤及雲石款式的酥餅曲奇。
-
Sablés Hollandais is one of the French traditional treats with a delicate appearance and delicious buttery taste.
Using 100% Madagascar vanilla bean and superior chocolate ingredients, you can create these checkerboard & marble pattern cookies all by yourself!
Also including another recipe of a  French traditional treats - Sablés Viennois in sweet potato & Uji matcha flavour, we will show you how to pipe these exquisite rose shaped cookies!
--------
注意事項/Remarks:
-
*部分程序將會由學員一同製作或由導師示範。
*Particular procedures will be proceeded by participants as team or demonstrated by Instructor
-
*因應天氣炎熱,同學可自備冰包。
*Students are welcome to bring their own ice pack.
-
*由於水果當造季節不同,導師或會轉換其他水果作為餡料,敬請留意。
*Please note that due to different season, instructor may use other fruit for filling without further notice.
--------
每班人數:8-10人
8-10 participants
-
每位可帶走約40塊曲奇
Approximately 40 cookies /participant
--------
包裝盒/Packaging:
為支持環保,希望同學能自備保鮮盒。
Help save the environment, we encourage participants bring along reusable packing box for the finished products.
--------
--------
上課注意事項 / Remarks:
所有課堂一經報名不能取消或改期,敬請留意。
課堂過程中不准錄影錄音。