意式番茄燉肉丸配香脆芝士鹹泡芙 | Polpette al Sugo with Gougères
Eva Chan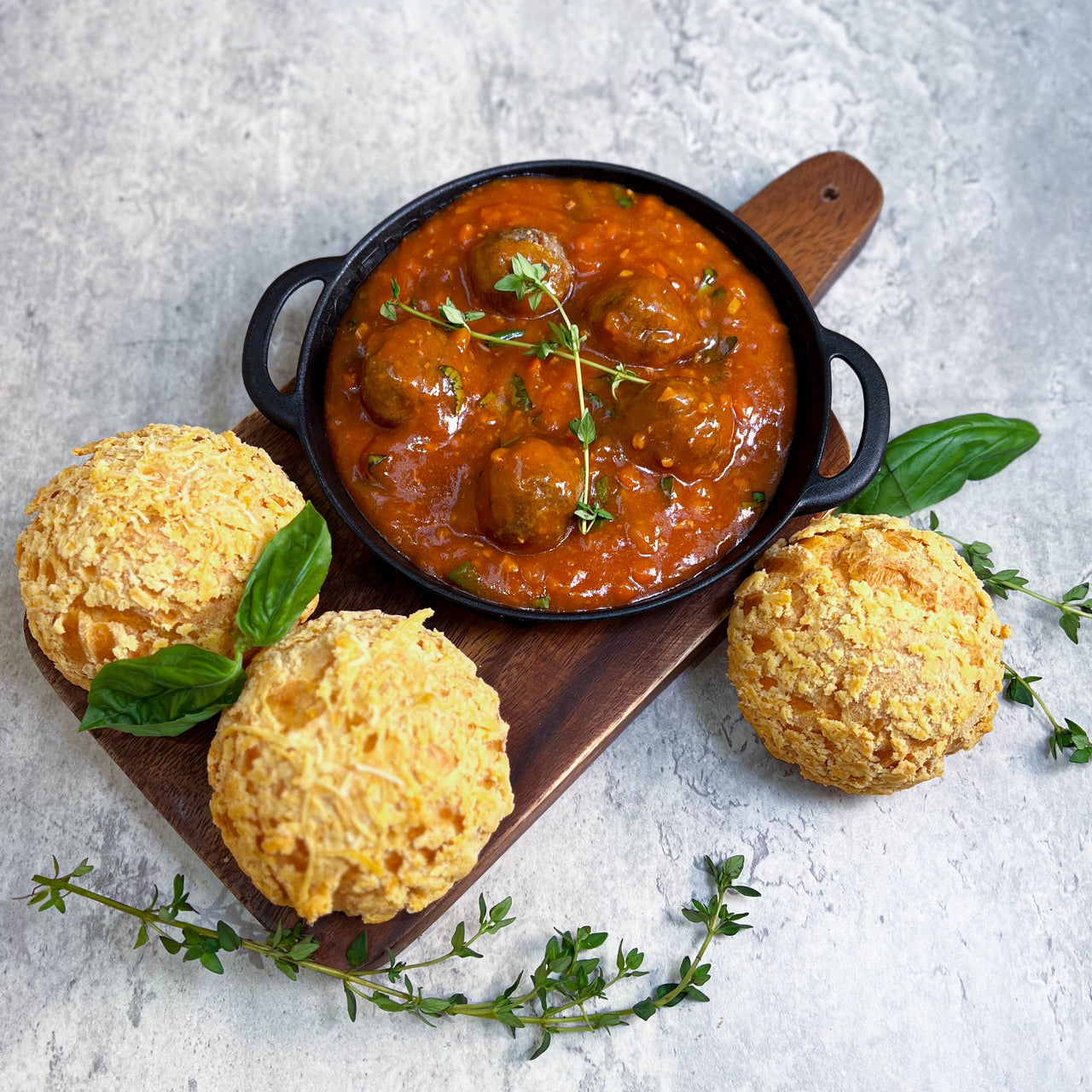 《全新創作料理創作課程》
意式番茄燉肉丸配香脆芝士鹹泡芙
Polpette al Sugo with Gougères
上課時間:約 3 小時
Duration:3 hours
--------
這次將帶大家來一場歐洲風味之旅!
融合意式和法式的全新烘焙料理創作fusion料理,由原材料開始教會大家烹調香濃意大利傳統菜式番茄芝士醬及獨特配方製作的鬆軟多汁燉肉丸!
還有將經典法式甜點化身成為下午茶鹹點!法式泡芙都可以做出酥香鹹脆口味,加入大量芝士製作的泡芙上層放上芝士曲奇脆面,讓你一口接一口吃不停!課堂還會教授獨創食法,教你做出一道美味又精緻的高級菜餚。課堂還會教授製作另一款充滿秋天意境的葉型抹茶酥片,香脆可口,每一口都能吃到濃郁抹茶味。
-
This brand new Baking Workshop  incorporates fusion idea of French cuisine  & Italian cuisine!
We will show you step by step in how to make the traditional Italian cuisine - Polpette from raw ingredients,  the making of classic French pastry - Pâte a Choux in Savory Cheesy flavour with a crunchy cheese cookie crust on top! The class will show you a new creative serving idea with this irresistible savory cuisine! 
--------
注意事項/Remarks:
-
*所有課堂一經報名不能取消或改期,敬請留意。如因事未能出席可找家人或朋友代為出席,請預早通知以便安排。
*All bookings are are non-refundable and rescheduling.  Seats are available to switch to your friends or family if you are not available to attend the class, please let us know in advance.
Video and audio recording are prohibited during class.
-
*部分程序將會由學員一同製作或由導師示範。
*Particular procedures will be proceeded by participants as team or demonstrated by Instructor
-
*由於水果/材料當造季節不同,導師或會轉換其他水果/材料作為餡料,敬請留意。
*Please note that due to different season, instructor may use other ingredients or fruit for filling without further notice.
--------
每班人數:8-10人
8-10 participants
-
每位可帶走一盒約300克意式番茄肉丸及8個迷你芝士泡芙
A pack of approx. 300g Polpette meatball with sauce & 8pcs mini cheese puffs / participant

--------
包裝盒/Packaging:
教室有提供包裝盒,為支持環保,同學也可自備包裝盒。
建議包裝盒尺寸:10"(長) x 7"(闊) x 3"(高)
Studio provides packaging box, to help saving the environment, we also encourage participants to bring along reusable packing box.
Suggested packaging box size: 10"(L) x 7"(W) x 3"(H).
--------