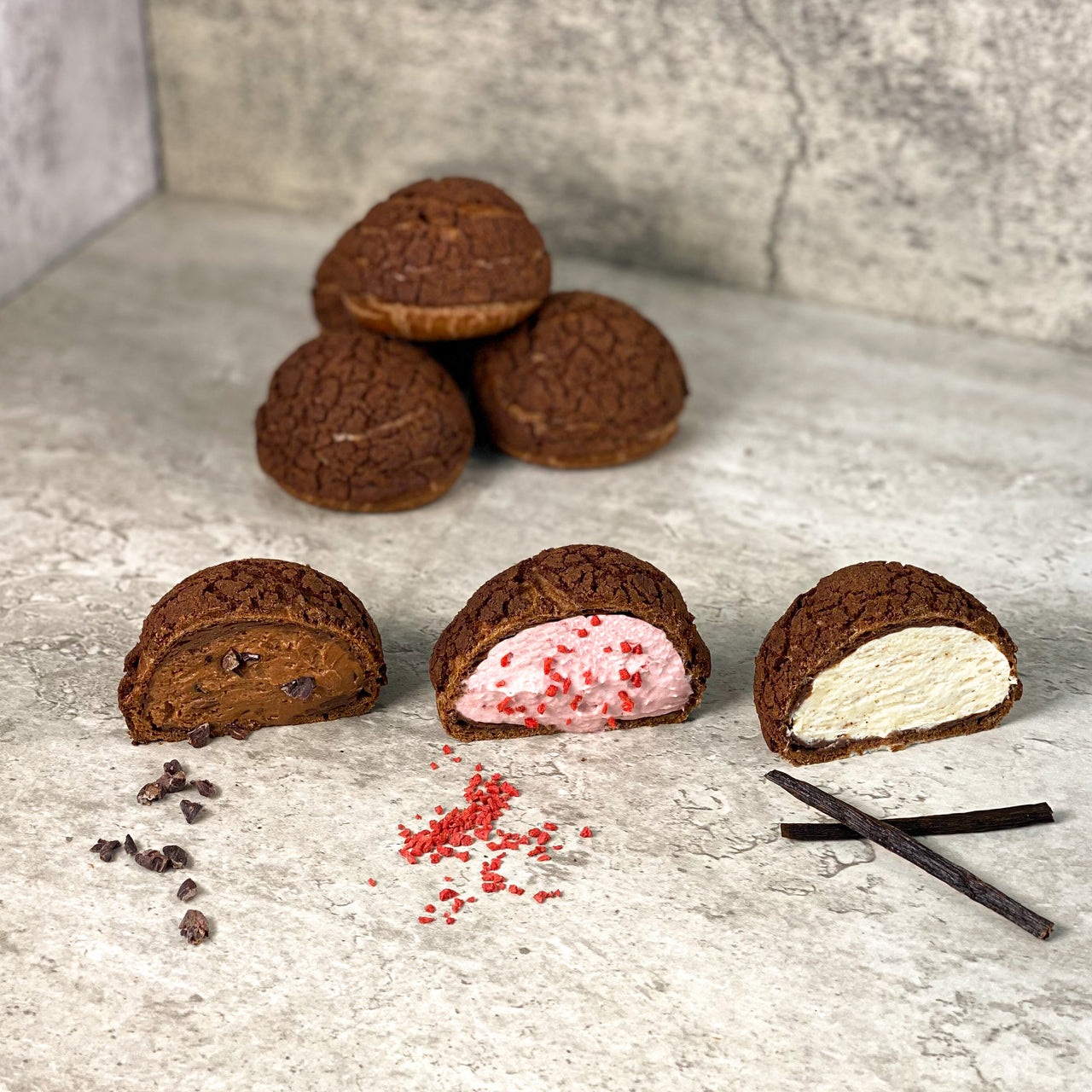 上課時間:約 3小時
Duration:3 hours
--------
教你如何親手做出鬆脆不易軟腍的法式泡芙!
用上法式配方調製出不易軟腍的朱古力泡芙,外層裹上鬆脆朱古力曲奇,內裏分別加上特濃黑朱古力、酸香草莓和馬達加斯加雲呢拿籽如雪糕質感的軟滑忌廉,為這個初夏帶來一絲冰涼感!
-
This course will show you the way in making French style crispy choux chocolat! Includimg techniques in how to form a  crispy crust of the choux puff, the texture and handling skills, and how to make the chocolate cookie crust on top. 

Also you will learn to make three flavours of filling - Single Origin Dark Chocolate, Fruity Strawberry and Madagascar Vanilla in ICE CREAM like texture!
Let's say Hello to Summer!

--------
注意事項/Remarks:
-
*部分程序將會由學員一同製作或由導師示範。
*Particular procedures will be proceeded by participants as team or demonstrated by Instructor
-
*因應天氣炎熱,同學可自備冰包。
*Students are welcome to bring their own ice pack.
-
*由於水果當造季節不同,導師或會轉換其他水果作為餡料,敬請留意。
*Please note that due to different season, instructor may use other fruit for filling without further notice.
--------
每班人數:8-10人
8-10 participants
-
每位可帶走 9件 迷你朱古力泡芙
9pcs petit chocolate puff /participant
--------
包裝盒/Packaging:
為支持環保,希望同學能自備保鮮盒。
Help save the environment, we encourage participants bring along reusable packing box for the finished products.
--------